by
Lee Mehr
As you effectively complete puzzles more of her past is exposed, compounding the tragedy of her present circumstance.
Were I to evaluate entirely on intent, I 'd discover nary a fault with it. The execution does leave a lot to be desired, nevertheless. Even if my previous paragraph seems a bit too "spoiler-y", it's partly due to how expected this kind of saccharine drama can get. And with its ephemeral runtime, you're dependent on the most plain story templates to connect with these characters. Sure, they still have capitivating qualities, however their development hardly scratches the surface.
Offered my habit to scrutinize bloatedness in modern games' stories, Past is an excellent countervailing specimen to that trend. There's an earnestness to Eda and Owl meeting for the very first time, exchanging pleasantries, and discovering a passion in music. Playing the function of archeologist to this short romance can have its moments. The foundation starts breaking when the signposting for the next emotional beat ends up being increasingly more obvious. The melancholic music with the occurring scene feels more and more computed as an outcome. Missing any kind of narrative, you're entrusted to a skeleton of a post-romance tale.
Another aspect that disrupts my connection is the point-n-click gameplay. As mentioned earlier, I think Mojiken is onto something here: instead of clicking to walk around an environ, you interact from a distance just like in a surprise things video game. It works thematically too. What much better method to communicate a far-off, cocooned lead character searching through previous memories than making your tasks feel far-off too? The issue is they feel more like simple difficulties with little context beyond that.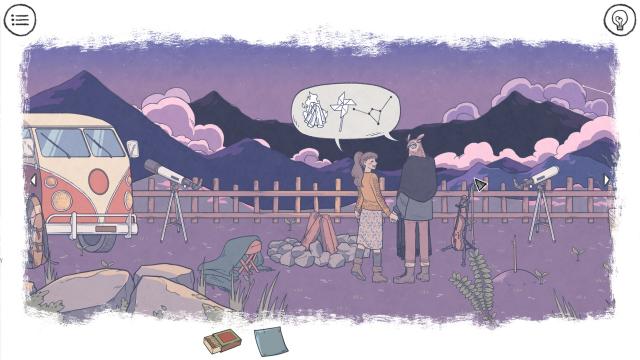 Given that there's no narrative, sometimes a character's idea bubble relays integral data. Those jobs, such as preparing tea for Eda and Owl, make you feel more like a goddamn house maid than an engaged player. As the video game advances the puzzles do increase in intricacy, sometimes needing you to return to previous locations. Despite being the parts with some problem, a spare couple of rely on obnoxious services and end up synthetically interrupting the game's circulation. This was further intensified by rare moments of needing to restart the game when a pestered puzzle would not acknowledge that I had all the essential items.
Simply put, the only rewarding puzzles are on the margins for me. The services frequently go towards the two extremes: quickly understanding the answer while waiting for the video game to catch up or actively obtuse because it's so in love with its own idea. Regularly it's the former. Even small information like jamming down either bumper button (or pushing the cursor to the edge) and gradually scanning each part of a room made me loathe backtracking my actions during the more expansive brainteasers.
Despite all the published concerns, there's still something to considerably admire with Past's discussion. Brigitta Rena's hand-drawn art has this somewhat rough yet stunning design that's filled with a lot character. Even qualities as odd as an owl-human hybrid have this biologist tint so as to not feel disjointed from the rest of the world. Whether in gameplay or brief cut scenes, the gentle design motivated me to think about which artists were Rena's greatest motivations. Though more restricted and recurring, sound design and OST are satisfactory. The video game's leitmotif, supplemented by clicking thought bubbles during scripted minutes, is an enjoyable one however overuse dampens its edge by the end.
By being so ephemeral at under 1.5 hours and costing $8. Considering simply how unengaging Eda's emotional journey ends up being, I can sympathize with her desiring to keep it buried.
---
Despite being among newest authors on VGChartz, Lee has been a part of the neighborhood for over a decade. His gaming history covers a number of console generations: N64 & NES in the house while taking pleasure in some Playstation, SEGA, and PC titles in other places. Being an Independent Professional by trade (electrical, plumbing, etc.) affords him more video gaming high-ends today. Reader warning: each click offered to his articles only helps to inflate his Texas-sized ego. Proceed with care.
This evaluation is based on a digital copy of When the Past was Around for the XOne
Read more about our Review Methodology here
More Articles